Seven Starling is a digital platform that provides specialized therapy, peer support, and in-app exercises for new mothers and caregivers, increasing the accessibility of high-quality maternal mental health care. .
Breaking the Stigma: Prioritizing Mental Health Support for New Mothers and Caregivers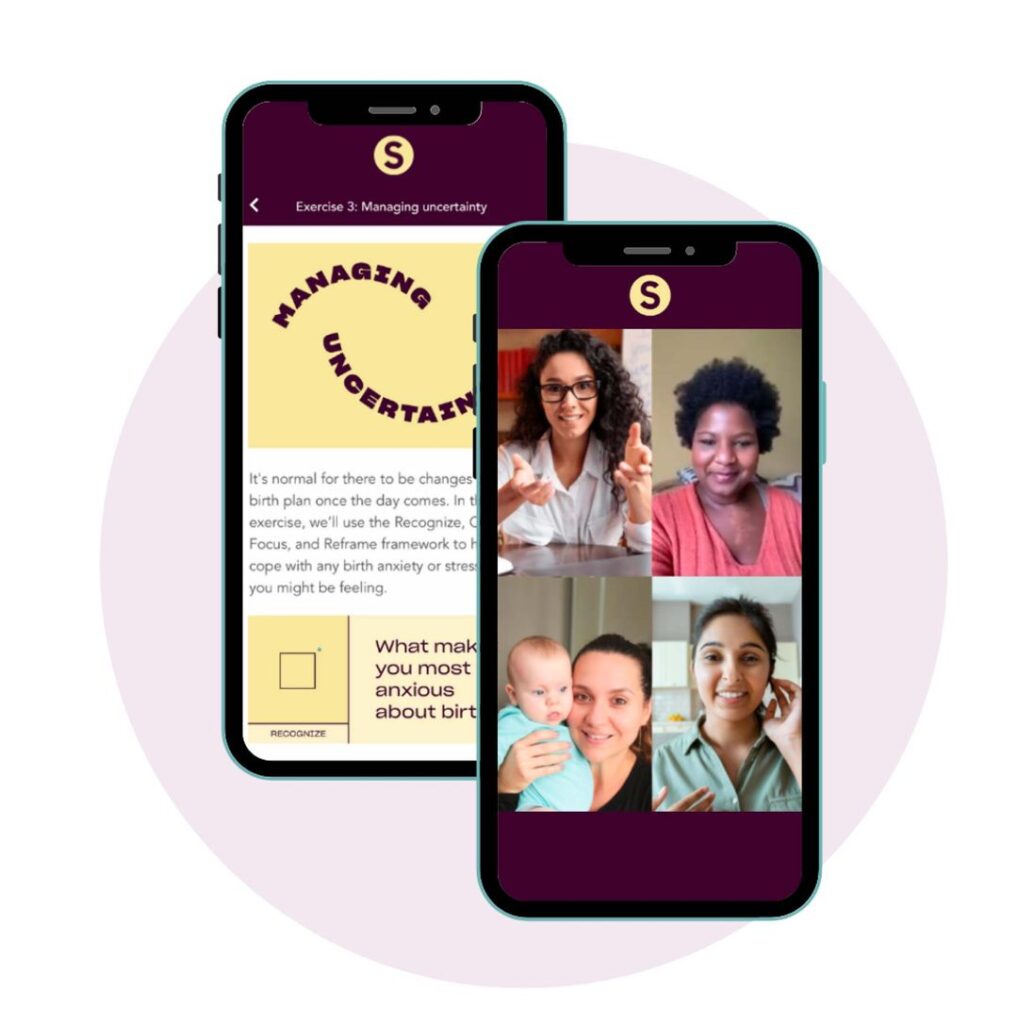 When Tina was six years old, she and her parents were granted asylum upon moving to the United States from Kazakhstan. "My parents became entrepreneurs by necessity, in a completely new place where they knew nobody," she comments.
Tina spent the bulk of her career before Seven Starling at Warby Parker and was responsible for running large growth initiatives. She helped launch Warby Parker's first telemedicine service in 2015. Then, "after six years of heavy-duty operating experience, I was ready to take the next step on my own," Tina reflects. After two years at Harvard Business School, Seven Starling was born.
Tina founded Seven Starling alongside Julia Cole and Sophia Richter, who both attended Harvard alongside Tina. Bonded together by their passion for the women's health space, the three women saw maternal care as one of the biggest problem areas of the women's health space. "The US has the worst maternal health outcomes of any developed country and the highest cost of care," Tina explains.
While more than one in three women experience anxiety or depression in the prenatal period, only 15% get treated. 94% of these women do not seek help due to feelings of guilt and shame— "There is so much pressure on women to be perfect moms once the baby is born." Without necessary treatment, these mental health conditions can manifest into worse birth outcomes, can negatively impact an infant's development, and inhibit working mothers from returning to the workplace. In fact, the CDC reports that the number one driving factor of maternal death in the US is untreated mental health conditions. This is partially due to the low rate of screening patients for mental health conditions due to the lack of available resources for mental health referrals: "Many doctors aren't screening patients because they're liable if they identify a problem but don't connect their patient with a resource" Tina explains.
Seven Starling supports mothers throughout their whole journey, from preconception to early parenthood. Through pairing patients with specialized therapists, a blended model of both individual and group therapy appointments, and medication management (if needed), Seven Starling serves as a resource for OBGYNs to reliably share with their patients. Seven Starling emphasizes the importance of a specialized care model based on individual needs, "It is all tailored to specific experiences. Care for a woman that is experiencing miscarriage looks very different than for a woman that is postpartum," Tina says.
From Leader to Leader: 3 Lessons Learned
Tina highlights the balance between iterating around the edges versus taking big bets. "At times, companies get stuck in a cycle of seeing issues and trying to solve them through small changes. You can only wait so long before needing to rewrite the entire process."
2. Invest Early in Team Culture
"Everyone talks about this, but it is so hard in practice – especially remotely." As a CEO, Tina sees her primary role as building a trusting, collaborative, and inclusive culture within her team. She finds success in indexing towards hiring great people leaders and creating an environment where feedback is considered a gift. "We've implemented several avenues for feedback including monthly feedback Fridays and regular anonymous Employee Experience surveys."
3. Focus on What You Can Control
Many decisions are out of a founder's hands in the startup world, whether it be a business partnership or landing a massive customer or payer. Tina advises spending precious founder time in the very early days on initiatives in your control, rather than waiting for a hail mary to solve the company's problems. "In the early stages, it is better to focus your time on areas in your control," Tina says.
Looking Ahead: Scaling Seven Starling
Last year, an efficacy study found that 92% of patients reported feeling better within two months of engaging with Seven Starling's services. This year, the company is focused on scaling these resources. Seven Starling hopes to expand geographically beyond DC, Maryland, and Virginia. Seven Starling will also focus on expanding in-network coverage with payors such as Cigna, Blue Cross Blue Shield, Anthem, and United Healthcare. Lastly, Tina hopes to continue to onboard OB/GYNs who are a good fit. "We are consistently focused on integrating Seven Starling into a massive and complex US healthcare system," Tina summarizes eloquently.
From a young age, Tina admired her immigrant parents' entrepreneurial drive. Today, she is using these lessons learned to address one of the US healthcare system's biggest downfalls, uplifting mothers and families nationwide.
---
Join our Vibrant Community!
You're not alone in your mission to bring better health technology to patients and medical professionals. Now more than ever, connecting with a global community of entrepreneurs is an invaluable step towards realizing your goals within the health technology world
Receive invitations to free and paid virtual events with healthtech entrepreneurs, payers, and service providers when you subscribe to our newsletter.
Or, if your inbox is a mess, follow us on LinkedIn or Twitter or check out our podcast.