For the November installment of the Healthtech Leader of the Month series, we spoke to Maryam Ziaei, the co-founder and CEO of iSono Health.
Maryam and her co-founder Shadi Saberi, both engineers, founded iSono aiming to make breast cancer screening universal and accessible.
Wearing is Caring
Meet the ATUSA scanner: a portable, wearable method of breast cancer detection. "What we've developed so far is an automated ultrasound that attaches to a wearable accessory that allows for hands-free operation of the device without the need for an expert presence," says Maryam.
The critical unmet need this addresses is simple: people aren't getting regular mammograms. "There are a lot of women who for many reasons don't want a mammogram," says Maryam. "Today, about half of women over age 40 don't get regular screenings, which is about 40 million women. There are also 20 million women in this country that live in radiology deserts, where they don't have access to breast imaging.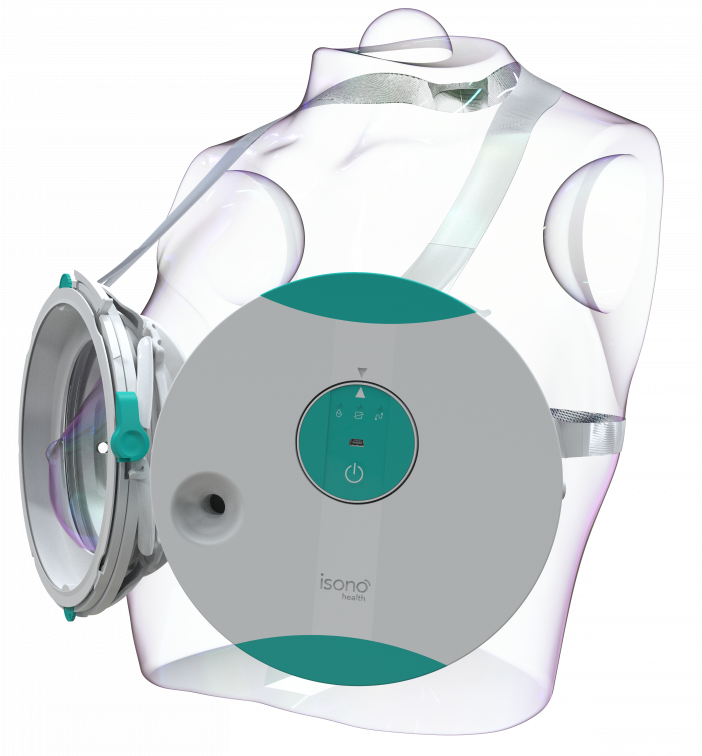 iSono was founded to make this problem a thing of the past. "It seems like in this country, we think breast cancer is a solved problem. It really is not, when half of women are not getting their routine screening," Maryam says.
That half of people not getting routine screenings are often blocked by systemic issues and healthcare disparities. "One of the big missions of the company is access," says Maryam. "When I talk about not having access to imaging, that disproportionately affects people from lower socioeconomic statuses and people of color. Not everyone has the capability to take a day off work to go and get imaging."
Unfortunately, Maryam and Shadi are all too familiar with the results of irregular or nonexistent screening. "Both me and my co-founder had lost close friends of ours to breast cancer that was detected too late," says Maryam. "We started thinking, how can we improve early detection of breast cancer and how can we make breast cancer screening more accessible, more personalized, and longer term?"
From Leader to Leader: 3 Lessons Learned
#1: Salt is an essential seasoning.
"Surrounding yourself with good mentors is very important," says Maryam. "However, there's a lot of naysayers out there. It's good to take feedback, but it's also good to know where you land in terms of your principles. Everyone gives you advice and that's for free. But I think it's also good to take each piece of advice with a grain of salt."
"Entrepreneurship is hard. So make sure you do something that you're absolutely passionate about, otherwise it's not worth it," Maryam advises. "It has a lot of ups and downs, but you're passionate about what you're doing, it makes it all worth it. Because you are not just doing a job, you're doing something that is your passion as a career."
#3: Don't sprint when you should be jogging.
As other Healthtech Leaders also emphasized, longevity is the name of the game. "It's not a sprint, especially in healthcare," Maryam says. "In any successful company, it's a little bit of a marathon. So it's as much about your passion as it is about setting up boundaries. And: learn to say no."
This is a lesson Maryam identifies as a particularly difficult one for her, especially because — in accordance with #2 — she's passionate about what she does. "I'm still learning and hopefully growing. Sometimes it takes over your life. It's challenging."
Bonus Lesson: Join the STEM Side! (We Have Cookies)
In conversations with Maryam, her passion for engineering comes through loud and clear — and she wants the next generation of entrepreneurs to have that passion as well. "For younger women who wanna get into STEM, I think it's the best career in the world," says Maryam. "It's exciting in healthcare because you can literally do things that change people's lives every day."
Keep An Eye Out…
… for an ATUSA scanner in a primary care office near you! Says Maryam: "We are ramping up commercialization and heading into the commercial phase of the company."
"Our system can be deployed initially at a local clinic or pharmacy or general practitioner's office. And then the images can be read remotely because a radiologist probably isn't there. Our goal is to really put this in the offices of more primary care settings," she adds.
And beyond the ATUSA scanner? "We are a company with a strong mission and a really strong team that is really looking to change how cancer care on a bigger scale is done," says Maryam. "We have a big passion and a big mission. We've built quite a strong technology and we're excited about next steps. It's just the beginning."
---
Join our Vibrant Community!
You're not alone in your mission to bring better health technology to patients and medical professionals. Now more than ever, connecting with a global community of entrepreneurs is an invaluable step towards realizing your goals within the health technology world.
Receive invitations to free and paid virtual events with healthtech entrepreneurs, payers, and service providers when you subscribe to our newsletter.
Or, if your inbox is a mess, follow us on LinkedIn or Twitter or check out our podcast.