It's July, which means we have a new Healthtech Leader of the Month: Yael Adam, the co-founder and CPO of Laguna Health. Laguna Health is a digital at-home recovery platform aiming to help members achieve their recovery goals as well as avoid preventable complications or readmissions. Along with co-founder Yoni Shtein and her team, Yael created Laguna Health to make recovery affordable and accessible from the home.
Care, Context, and Micro-Goals
As an elite athlete, Yael went through several painful injuries, worsened by little to no available at-home recovery support. Her experience struggling with recovery led her to the idea that would eventually become Laguna Health.
"There's no solution like Laguna Health out there," Yael says. "As it is now, you get out of the hospital, you get discharge papers, and good luck! And in those pieces of papers, there's typically only biological data, or medication instructions, or wound care information. There's nothing about how you feel about when you come home from the hospital, nothing about the changes to your body, having to rely on family members and caregivers to help with the day-to-day, or your emotional state."
Recovery is an incredibly important process for regaining overall health, but successful recovery is often fraught with multiple variables. Yael says accounting for these variables in a structured way is part of the reasons why Laguna Health is so effective. "It's really important to look at the member from a whole person care perspective," she says. "When people go to the home, it's not just the biological, or even the biosocial piece that is important. It's the context of their life that really affects how they will do and what challenges and barriers they're going to run into. We call it barriers to recovery at Laguna. Identifying and addressing these barriers is at the heart of what we do."
Upon identifying a barrier, Laguna's system suggests "Plans of Care": actions for the member to take to overcome their barrier and get back on track. "How do you set up goals members can actually achieve? How do you break it down into goals that they can even look at?" Yael asks, then answers: "We use a variety of digital tools and virtual coach support to make sure members are adhering to their discharge instructions, step by step. And at the heart of it all, getting to the motivation, and what will drive successful recovery for this person in the context of their life."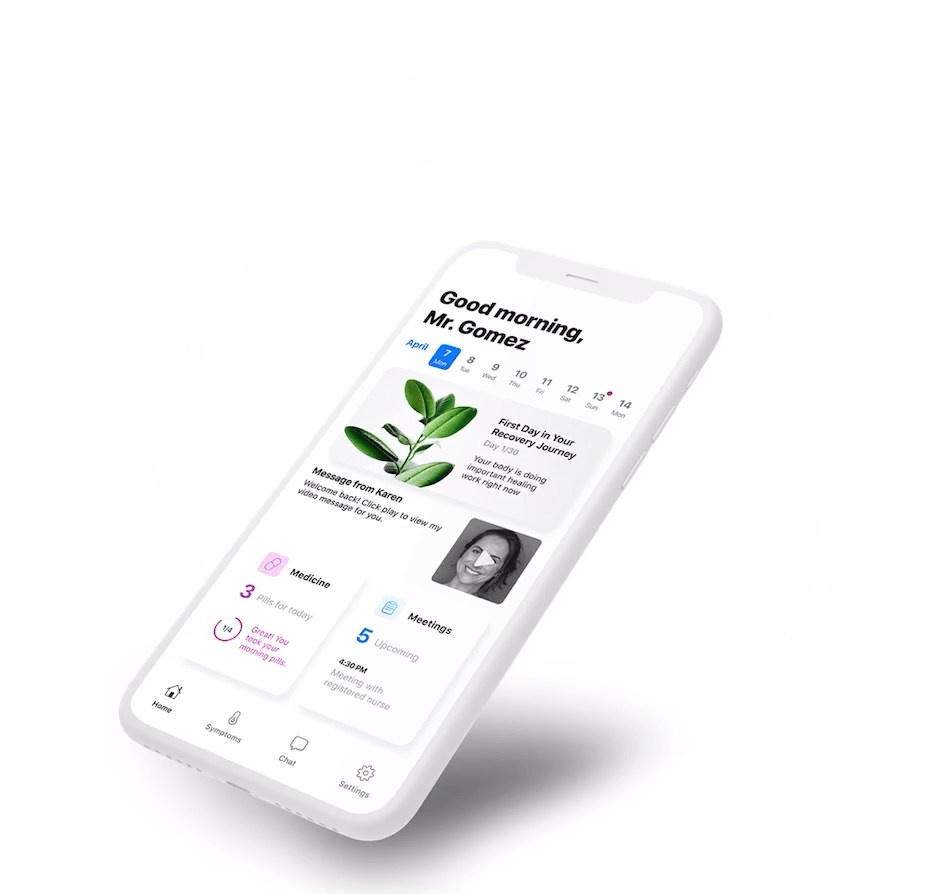 From Leader to Leader: 3 Lessons Learned
#1: Focus on the goal.
Yael's journey towards establishing Laguna Health as a prominent up-and-coming healthtech startup wasn't an easy one.
"There are a lot of setbacks," Yael says. "People will tell you you're not doing the right thing. So, it's a balance between being focused on your goals and not letting them go, and also listening and knowing to change your mind when you need to. And it's a very delicate balance, but I think it's an important one to pay attention to."
"You're not always going to be right, but working hard towards the goal makes it more likely," she adds.
#2: Lead with care and authenticity.
Yael and co-founder Yoni aim to establish a direct, communicative, and caring company environment. "Bring radical transparency," says Yael. "I care deeply about my team, in their career and in their personal life. If I always put them first, then I can be as direct as I need to be."
For Yael, though, radical transparency isn't just about caring for your team."I believe leaders need to be authentic and open," she says. "The people who join the company early on join you. They don't join the company that has a random name that you came up with. They joined you as your early partner. And I think that's a big piece of what makes them work hard with you to get to that goal."
#3: Pick that problem that makes you lose sleep at night.
"There's so many problems in healthcare," she says. "Take the one that you're so passionate about that you cannot imagine working on anything else. Have that be the thing that wakes you up in the middle of the night."
"It makes all the ups and downs of startups worthwhile."
Good Obsessions
Currently, Laguna Health is in the process of launching a pilot program with Anthem, and Yael is looking forward to bringing Laguna Health's recovery infrastructure to more and more people.
"I wouldn't have started the company if I didn't feel so obsessed about it," she says. "You compromise a lot of your life in starting a company. You put your whole being into it. I only do it for something I so strongly believe in."
---
Join our Vibrant Community!
You're not alone in your mission to bring better health technology to patients and medical professionals. Now more than ever, connecting with a global community of entrepreneurs is an invaluable step towards realizing your goals within the health technology world.
Receive invitations to free and paid virtual events with healthtech entrepreneurs, payers, and service providers when you subscribe to our newsletter.
Or, if your inbox is a mess, follow us on LinkedIn or Twitter or check out our podcast.