For the third installment of the Healthtech Leader of the Month series, we interviewed Gabriel Sanchez, CEO and co-founder of Enspectra Health. Enspectra is developing technology that creates virtual biopsies for non-invasive skin cancer detection. 
Enspectra Forges a New Future for Cellular Imaging
Enspectra Health is pioneering a new field of live cellular imaging that will help physicians evaluate a spectrum of skin conditions. Traditional tissue imaging requires taking a biopsy, slicing it down to a few microns thick, and mounting the dead tissue onto a glass slide to look at it under a microscope. With Enspectra's platform, a physician can take a virtual biopsy: a digital image of cellular structure in living tissue. Their device can be held against the skin to image tissue without ever making an incision, allowing physicians to move the probe around and analyze tissue in real time.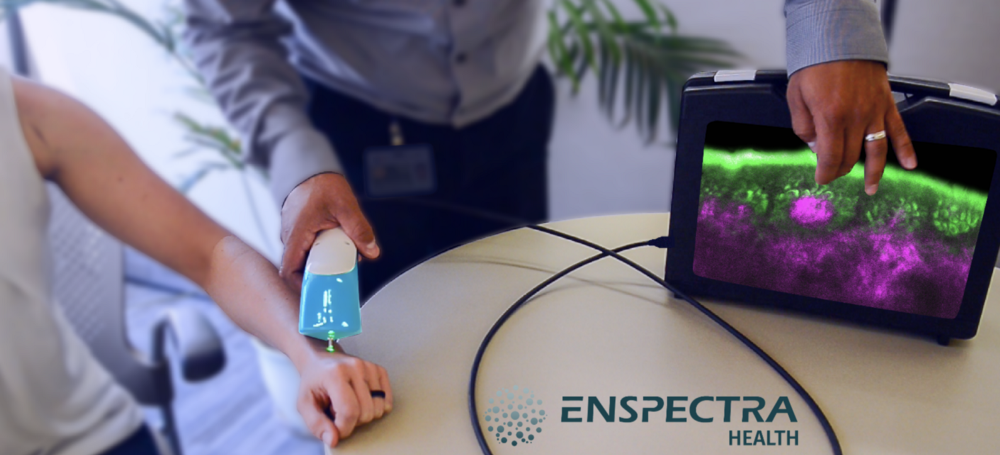 Enspectra's technology: Noninvasive, real time, digital pathology
Gabriel recognizes that their technology fulfills a "novel need"– something that people don't know that they need until it is introduced, such as personal computers. "The challenge of that is that you have to create a new reality from scratch, but the benefit is that it can have a much greater impact, particularly on patient care," Gabriel says. "It also puts you in a stronger commercial position because you are truly differentiated from your competitors." Their innovation will allow physicians to examine and image cells in an entirely new way.
Gabriel Sanchez: 3 Lessons Learned
After earning his PhD in mechanical engineering from Stanford, Gabriel Sanchez had envisioned a career in academia for himself. He was well on his way as an instructor in the bioengineering department at Stanford when he first encountered the problem of studying and imaging sarcomeres. In order to achieve a fundamental understanding of sarcomeres, the basic biologic unit of a muscle, they needed to be studied within the body; biopsies only allowed scientists to study disconnected sarcomeres. Gabriel developed a multi-photon microscope that was capable of live-tissue cellular imaging, capturing the first ever images of sarcomeres in a living body. He realized that the technology had the potential to transform patient care outside of the scientific setting, and cofounded Enspectra Health to bring that technology into practice. He shares some insights he's learned on the journey so far.
Lesson #1: Don't be reckless, but be risk-tolerant, and at times, risk-driven.
"Keep trying to win. That sounds obvious, but it's easy to slip into a mode where you're trying not to lose. Particularly when resources are highly constrained, your instinct might be to clamp in and hold onto what you have. That's an easy trap to fall into, especially for an early-stage company," Gabriel says. "I've always believed it's better to use what resources you have, even if they're meager, to take a shot at creating something valuable. Don't be reckless, but be risk-tolerant, and at times, risk-driven."
Enspectra has taken their fair share of risks: in 2019, they raised $7.5 million in a Series A round but their plans for development and clinical trials in 2020 were derailed by the pandemic. However, Gabriel recognized that covid was a catalyst for wider acceptance of digital pathology tools. Instead, they invested heavily in R&D that would integrate their tech with machine learning approaches and analytics. The risk paid off, and their device can now image tissue across a broader spectrum of wavelengths, which has put them in a position to build a one-of-a-kind database of such information.
Lesson #2: Ask for help.
"None of us can possibly know all the right answers all the time. You should be trying to build a broad network of mentors and people with diverse experiences, not that they're going to tell you what to do, but you can learn from those experiences and apply them to help inform your choices," he says. One of the places he's found support is through the Rosenman Innovators program. Gabriel says that they met their Series A lead investor through the Rosenman Symposium, and he still participates in office hours and workshops. "They have a great vision and mission for how to support this ecosystem, and I'm glad to be part of it," he says. Which brings us to his tandem piece of advice: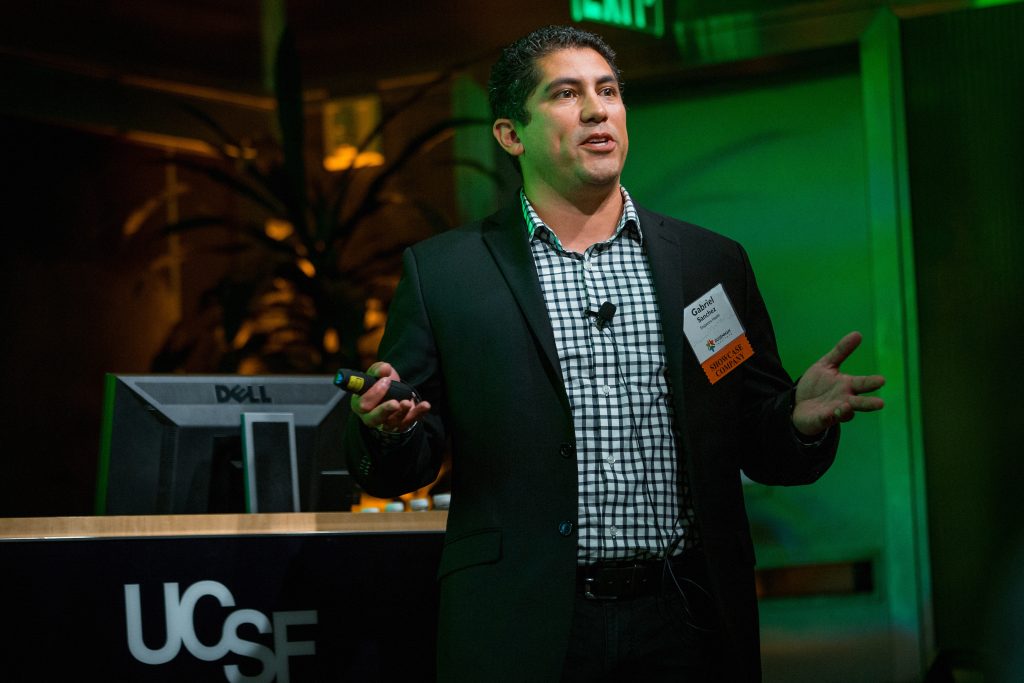 Gabriel Sanchez at the 2018 Rosenman Innovators Demo Day at Byers Hall Auditorium, San Francisco, CA.
Lesson #3: Don't be a crab in the bucket– help your colleagues.
"Medtech is a small world. We're all in this together. If we can all support each other, and help the overall ecosystem, that can really lift everybody up. That's how we all win together," Gabriel says. As a CEO, one of the ways Gabriel supports his team and broader community is by emulating the approach of Edwin Catmull, cofounder of Pixar. He says, "You can take the same team, the same people, with the same skillset, and you can completely stunt them and smother them in some ways. But if you enable them in the right ways and motivate them, they can create tremendous things."
The Moon is Only Halfway: Final Thoughts
Gabriel takes inspiration from the movie Apollo 13: getting astronauts to the moon was only the midpoint of their mission, because they were also determined to return home. Often the big goal we're currently working toward is not the end of the journey. For Enspectra, the applications of their technology have the potential to reach far beyond non-invasive scanning for earlier detection of skin cancer. "We see this as a platform that can apply not just to non-invasive imaging of skin, but to multiple different realms of pathology and diagnosis, where there are major limitations because we're still dependent on the physical medium of a biopsy," Gabriel says. They're also developing versions of their technology for intra-operative imaging, a needle probe, and bulk tissue scanning. "I believe it will fundamentally change the field of digital pathology," he says. "It's an exciting future."
Become a Better Healthtech Entrepreneur: Join Our Vibrant Community.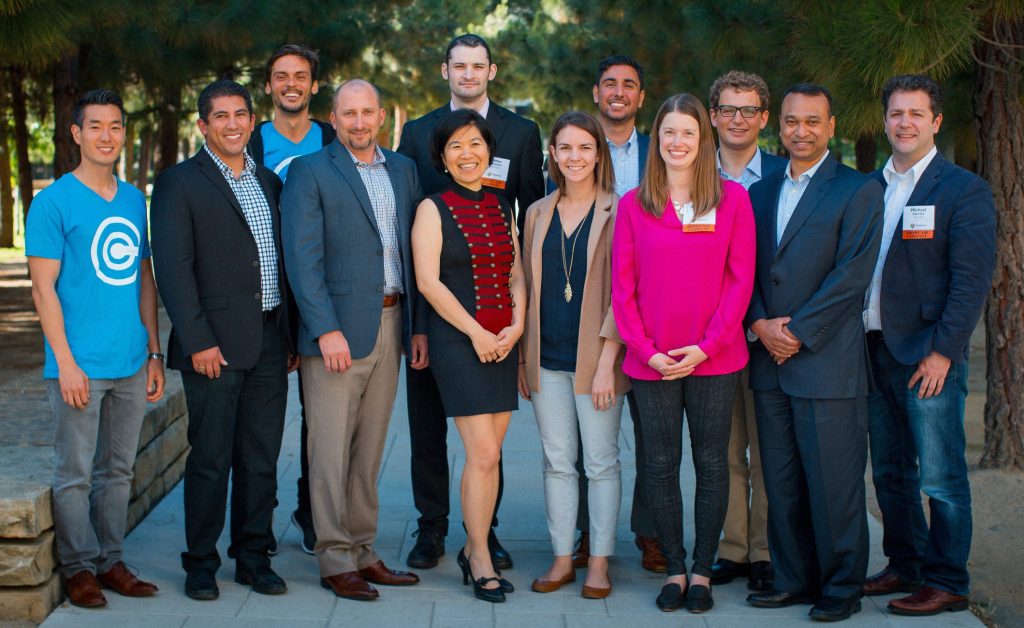 The 2018 Rosenman Innovator cohort. Gabriel is second from left.
You're not alone in your mission to bring better health technology to patients and medical professionals. Now more than ever, connecting with a global community of entrepreneurs is an invaluable step towards realizing your goals within the health technology world.
Receive invitations to free and paid virtual events with healthtech entrepreneurs, payers, and service providers when you subscribe to our newsletter.